Jacques & Paulo, 28 years old twins with a passion for travel, photography & creating unique content across a range of different media. They traveled to Vietnam last year and fell in love with with country. Read their Blog that recommends 61 things to do, see, taste & feel while you are visiting Vietnam.
Read thier Blog here https://www.massiebros.com/blog/61thingstodovietnam
Vietnam is an incredible country, a location in South East Asia where you can truly find a genuine experience. With South East Asian culture slowly being overrun by Western norms and Eastern Business expansion it is refreshing to find an authentically real feel.
But you need to go now! Vietnam is set to become a developed nation by 2020 which means over the next few years a lot will change and it will become harder and harder to find that authentic communist vibe.
As the economy grows so to will the number of Vietnamese who buy into the western ideals of; 'We need more.' or 'I want more.' Vietnam's impressive economic growth is both an amazing feat and a sad truth. Amazing for a people that have struggled for so long against adversity and persecution.
Amazing also to see a freedom dream't up for over half a century finally coming into its power. The sad truth about growth in communist countries is the inevitable disassociation with the positive points of a communist culture.
The incredible; kindness, community culture, sharing of wealth & passion towards non money orientated pursuits. Will unfortunately disappear or be hidden – just look at China & Russia for reference.
Pheww! Those were some big words! Alright so let's loosen up and enjoy Vietnam for what it is right now… An Amazing country that you are about to visit! This blog will cover 61 Things to do, see taste & feel while you are visiting Vietnam.
But first, Here's a bucket list for you to tick off when you make it to Vietnam. Share it to your Pinterest, that's what we do.
001 – SING KARAOKE
"WTF! You put Karaoke at the top of the list?" Yeah fair call, karaoke is probably not the first thing that comes to mind when you think of an authentic trip to Vietnam. But Karaoke is embedded in the Vietnamese culture.
Plus it is one hell of a way to make a sincere connection with the locals. Laughter (probably at your amazing singing voice) is a universal language.
See if you can beat my score of 91… The scoring starts off at 100 hahaha so I actually lost points.
002 – SEE THE WAR MUSEUM IN HO CHI MINH CITY (SAIGON)
All Jokes aside the Vietnamese have been through more hardship than you and I could even fathom. Yet, they are still some of the happiest humans Paulo and I have ever met.
Most of us have some sort of knowledge of the Vietnam War but what you experience in this museum will truly open your eyes to how much this country suffered. It will also help you realize just how pointless your everyday worries are.
003 – WAKE UP FOR A SUNRISE IN HALONG BAY
Even if you have not heard much about Vietnam you have most likely heard of Halong Bay. Halong Bay is a must see while you are in Vietnam but if you are there then you better bloody wake up for the sunrise.
Even if it is cloudy the pure stillness of the water disturbed only by the occasional ripples of a fisherman beginning his day surrounded by huge, almost otherworldly limestone pillars.
004 – SLEEP ON A BOAT IN HALONG BAY
Well you obviously need to get a good nights rest if you are going to experience a Halong Sunrise special so why not sleep on a boat. There are an array of options to choose from when booking your trip to Halong Bay, spend the extra money and get yourself a night or two on the Ocean.
The feeling of sleeping under the stars surrounded by pillars of limestone and the distant howls of monkeys is like nothing else you will experience.
005 – CYCLE THROUGH CAT BA ISLAND
Cat Ba Island is the large island that you will pass through on your way to your Halong Bay adventure. Sort yourself out a tour that includes a cycle through the villages and landscapes of Cat Ba Island or one of the surrounding islands. The deep greens will give you nerving reminders of the scenes from Jurrasic Park.
006 – STAY IN A HOMESTAY
Backpackers and Hotels are great for meeting new travellers but if you want an authentic Vietnamese experience try stay in a few Homestays. Eat with the families and experience there daily routines first hand.
Walk through the rice fields and talk with the villagers. We met an 85 years old woman still working from sunrise to sunset everyday pulling weeds, she was happier and healthier than any western pensioners that I have met.
007 – VISIT THE MIND BLOWING NINH BINH PROVINCE
Dubbed the 'Halong of the land' you can see why the moment you drop over the horizon and stare down at the insane limestone landscapes of Ninh Binh. An area famed for it's weaving canals and stunning landscapes, a must see on your Vietnam travels.
Hoa Lu, situated in the Ninh Binh province was in fact the first Capital of Vietnam and the home of the first two Vietnamese dynasties; Dinh & Le.
008 – FLY A DRONE IN NINH BINH
If you can't get your hands on a drone then find a traveler that has one and check out the view from above. With fresh water canals weaving their way between limestone pillars wrapped in rice fields.. well you can imagine the view from above is pretty spectacular.
If you have the money for a helicopter ride I highly recommend you capture this view with your very own eyes.
009 – VISIT TRAIN ROAD IN HANOI
The rules of the east are vastly different from the rules of the west. Health & Safety is viewed differently in parts of the world that have not been hindered by the health and safety restrictions in the west.
A train straight through the middle of your road is normal and life continues as normal until its 3pm and the train comes flying past your front door. Train road is a must see while visiting Hanoi.
010 – VISIT SON MY MEMORIAL
This site was the scene for one of the most horrific war crimes committed during the Vietnam War. A massacre committed by US troops that ended the lives of 504 Villagers, many of them children and elderly. A bone chilling reminder of the horrors human beings are capable of.
 011 – EXPERIENCE PHONG NHA-KE BANG NATIONAL PARK
Containing the oldest Karst Mountains in South East Asia, formed roughly 400 million years ago and riddled with an unknown number of naturally formed caves. It is no wonder this site was labelled a UNESCO World Heritage Site in 2003. Be sure to bring your camera and adventurous spirit for this one.
012 – SAVE UP $$ FOR HANG SƠN ĐOÒNG
Hang Sơn Đoòng is better know as the worlds largest cave. Yep that's right the largest cave in the world is in Vietnam. It was only recently explored in 2009-2010 and is currently accessible to the public on a very restrictive basis.
This cave is so massive that a 747 could fly through (YEP FLY THROUGH!) it's largest cavern. If you want to tick this one off the list you will need to book well in advance, pay over $3000 US & pass a fitness and health exam. Worth it? I think so..
013 – VISIT TAN KY HOUSE IN HOI AN
This tiny home, built two centuries ago by an ethnically Vietnamese family has been preserved for 7 generations. You will notice the Japanese and Chinese influences on the architecture. A perfect fit in the already stunning, Hoi An.
014 – DROP JAW AT BAN GIOC WATERFALL
One of the most iconic waterfalls in Vietnam, adorning many a homestay or hotel lobby wall. Ban Gioc is at the northern most region of Vietnam right on the border with China. The falls are fed by the Quay Son River and make for one hell of a natural view.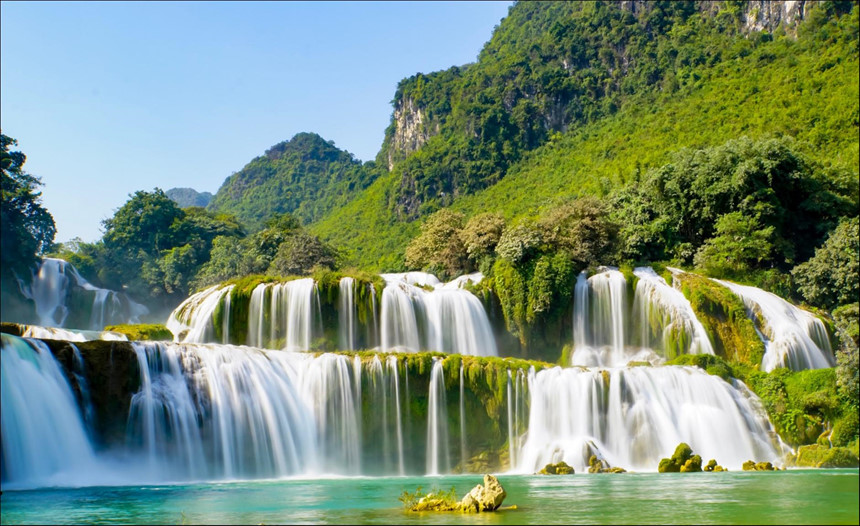 015 – GO ON A RANDOM ADVENTURE WITH ANOTHER TRAVELLER
For the solo travelers out there now is the time to release your inhibitions and go find yourself some incredible humans to adventure with. Get out f your comfort zone and start by saying 'Hello.'
A strange thing happens when people travel, they act their true selves and actually communicate. One girl I met while at a coffee shop told me she used Tinder as a way of making travel friends.. not a bad idea at all.
016 – GO ON A TINDER DATE
All the single ladies! And Gents, your traveling so be outrageous. Plus you meet some of the coolest humans when you travel so worst case scenario you get to have some amazing chat with a like minded person.
017 – STAY AT OLD QUARTER HOSTEL IN HANOI
Old Quarter hostel is located in the Old Quarter of Hanoi… Funny that. The area itself is a famous backpacker region of the city and has it's own incredible vibe. The Old Quarter Hostel is more than just a Hostel it is a home away from home. The staff there are on another level and truly care about your experience being the best it can be.
018 – GO ON A BAMBOO RAFT IN TAM COC
You might get a little wet but don't worry its probably 37 degrees Celcius so chances are you will dry quickly only to have the fresh water replaced by sweat. Tam Coc is in the Ninh Binh province, meaning its stunning. Experiencing an authentic Bamboo raft is relaxing and a great opportunity to take in how truly breathtaking this country is.
019 – VISIT THE JAPANESE BRIDGE IN HOI AN
The Japanese bridge in Hoi An is easy enough to locate. Just head towards the 'Old Town' area. Your Hostel will be able to point you in the right direction. The Bridge is beautiful during the day but it is at night when the lights and lanterns are blazing that the bridge truly comes to life.
020 – TRY DUCK FETUS
This is one for the brave hearted and strong stomached. I tried Duck Fetus and it is safe for me to say I won't be trying it again. But this is a truly Vietnamese dish so if you want to give the cultural norms a crack then now is your chance.
021 – VISIT TRAN QUOC PAGODA IN HANOI
Tran Quoc Pagoda is the oldest of its kind in Hanoi and has undergone several changes over the years. This Pagoda dates back to the 6th Century (544AD) and stands at 15 metres tall. You will also find an incense burning house and a museum.
022 – OPEN UP AT CAO DAI TEMPLE
Cao Daists believe that all religions ultimately believe in the same things and therefore worship and practice all areas of religion combining; Hinduism, Judaism, Zoroastrianism, Buddhism, Taoism, Confucianism, Christianity and Islam into one religion.
The temple is located 1 hour north of Ho Chi Minh, every six hours you can watch & photograph devoted worshipers in action.
023 – VISIT THE NIGHT MARKETS
Now I could go ahead and list 101 night markets to visit in Vietnam but that's just a little bit ridiculous. Almost any city or town you go to will have night markets to visit. We especially enjoyed the night markets in Hoi An & Hanoi Old Quarter. Just ask your hostel admin team in whatever city you are in and they will point you towards a night market.
024 – VISIT BEN THANH MARKET IN HO CHI MINH
Again you can find markets during the day almost anywhere you go in Vietnam but Ben Thanh is especially worth the visit due to its significance and history. Ben Thanh (Big Ben) is the largest market in central Ho Chi Minh and dates its routes back to informal markets along the Saigon river in the early 17th Century.
The market is one of the earliest surviving structures and a powerful symbol for Ho Chi Minh.
025 – BARTER FOR AN ITEM
Yep you can definitely barter in Vietnam especially in the markets. Aim to drop the price first offered by around 50 – 70 % and come to an agreement from there. Don't be a push over but don't be a dick either, just remember you have an extra dollar to spend.. your vendor probably doesn't.
026 – EXPLORE BAI DINH PAGODA
Once again another spot to check out in Ninh Binh. The Bai Dinh Pagoda is a large complex housing several Buddhist temples and 500 carved statues of Bhudda. Take your time to take in the sites and sounds before you get ready for the other adventures in the area.
027 – CHECK OUT THE TRÀNG AN COMPLEX
Tràng An is once again in Ninh Binh, the complex offers a plethora of activities to choose from including expeditions to local caves, a visit to the set of Kong: Skull Island and a stunning paddle between the towering limestone pillars. As you paddle through you half expect to see King Kong pop his friendly face round the side of a limestone tower.
028 – HAVE A COFFEE AT THE NOTE CAFE IN HANOI
The Note coffee is an iconic coffee shop in Hanoi's Old Quarter district, situated on Luong Van Road (a 1 minute stroll from Ho Hoan Kiem Lake). This quaint little cafe is bubbling with personality and outrageous levels of enthusiasm. The staff their are so happy all the time and it is infectious. Try a traditional egg Coffee while you are here.
029 – TRY AUTHENTIC VIETNAMESE COFFEE
Prepare yourself westerners… This coffee is much stronger than your soy latte and packs a sweet punch. Vietnamese coffee is made cold because its generally very hot & can be served black or with milk. The interesting taste you get in your first gulp is the sweetened condensed milk.
030 – EXPERIENCE THE NIGHT LIFE IN HANOI
Vietnam is growing fast and with growth the locals are seeing more freedom to enjoy the pleasures that westerners refer to as a Saturday night. The nightlife in Hanoi can get crazy and may result in a sunrise walk home filled with regret and funny memories.
031 – PARTY ON BACKPACKER STREET
Pham Ngu Lao street aka backpacker street is a wild place lined with huge pubs & nightclubs & boasting one of the best nights out in Vietnam. If you want to get out of the madness of Scooters & drunk tourists you can always find your way up to a rooftop bar.
032 – CATCH A GRAB OR TWO
Especially if you are traveling by yourself, download the Grab App and get moving around your location quicker without worrying about being overcharged. Uber doesn't exist in Vietnam, the people hated it so it lost out to Grab. Grab is a very similar concept with the added bonus of scooter rides at a far lower cost than a traditional car. Plus its fun.
033 – HIRE A SCOOTER & RIDE ALONG SON TRA PENINSULA
Da Nang itself is not that great with huge hotels lining the beach front it is starting to remind me of a miniature Gold Coast. If you are a Hotel to beach front kind of traveler then keep this city on your radar over the next 5 years. My recommendation, hire a scooter at Da Nang Bikes and ride out towards Son Tra Peninsula. The ride itself is the definition of third world freedom.
034 – VISIT LING UNG PAGODA
Situated about a kilometre from the start of the Son Tra Peninsula, Ling Ung Pagoda is a must visit while you are in Da Nang. Check out the incredible Lady Buddha standing at 67 metres tall & that doesn't include the 35 metres of Lotus flowers below her. She protects the city from incoming storms and is quite the sight to take in. Make sure you check out the rest of the complex though.
035 – DO THE HAI VAN PASS
Two of our newly acquired friends from the Netherlands did this trip and highly recommend it. Our other two friends (also from the Netherlands.. what can I say they love bikes) also did the journey and loved it. We will definitely be including this trip on the next journey.
The Hai Van Pass is a Scooter journey from Hue through to Da Nang and Hoi An, at roughly 165km's the trip can be done in a day but it is recommended that you take 3 days to really explore the area. The Hai Van Pass was made famous by Jeremy Clarkson during his Vietnam Special on Top Gear.
036 – VISIT HOI AN ROASTERY
I honestly think the best coffee I tried in Vietnam was in Hoi An. Now some of you coffee heads might have other spots but Paulo and I recommend Hoi An Roastery. The coffee is amazing, the staff are friendly and the location is quite with a pleasant rooftop view of the Old Town below.
037 – GET A TAILORED SUIT
Vietnam, specifically Hoi An, is famous for it's tailored suits. Most of the nice suits you buy back home probably source their fabric from Vietnam anyway. So why not pay a fraction of the price and get your suits tailored in Hoi An. There are so many places to choose from so chat to your hotel/hostel front desk to find out where they recommend.
038 – LADIES GET YOURSELF A TAILORED DRESS
Haven't forgotten about our amazing female readers out there. While you are in Hoi An be sure to get yourself that stunning summer dress you have been wanting to get for months but can't afford. Now is your chance to pick up something better for a fraction of the price.
039 – HIKE THROUGH MƯỜNG HOA VALLEY IN SAPA
This is the largest farmland area for rice growth in the Sapa area and is famed for it's breathtaking scenery. Do yourself a favour and throw on some hiking boots to see first hand the daily tasks carried out by the local villagers.
040 – CONQUER MOUNT FANISPAN
Indochina's highest mountain is Mount Fanispan and it can be reached in 20 minutes. Yep like all popular tourist areas infrastructure has taken over which is a good and bad thing. Good because more people can see the Mountain Top but bad because more people can ruin the incredible area. You can also do a 2 day hike to reach the summit.
041 – BIKE UP TO TA PHIN VILLAGE
While you are in Sapa make the effort to bike up to Ta Phin village located 17km's west of Sapa. The Red Dao people who inhabit the area have a rich culture that is yet to be affected by western culture. If you are motorized then it will take you 30 minutes to reach the village.
042 – HEAD TO THE SAPA MARKETS
For some of the most authentically Vietnamese garments check out the Sapa markets. You might pick up some of the most comfortable clothes you own here at less than a dollar. The colours by them self are a reason to buy.
Image sourced from 500px. The vibe at the Sapa Markets.
043 – CHECK OUT THAC BAC WATERFALL
Another gem of the Sapa area. Be sure to check out Thac Bac Waterfall. The falls can be reached from Sapa by motorbike or car within 30 minutes. If you make the journey you wil be greeted by a spectacular cascading waterfall and the last remaining forests of Hoang Lien National Park.
044 – TRY PHO AT A LOCALS SPOT
There are plenty of places in Vietnam to pick up a tasty Pho but the best spots are the ones regularly visited by the locals. Kitted out with toy set chairs and tables and dodgy meat prep areas the local Pho spots can be quite intimidating. The language barrier may also be quite tough but if you get your order right you will be rewarded with some of the best Pho in town.
045 – CỦ CHI TUNNELS
The Củ Chi Tunnels Are located about 45 mins outside of Ho Chi Minh City. During the Vietnam War the Viet Cong dug tens of thousands of tunnels that served as housing, kitchens, hospitals and even had multiple levels. Check it out.
046 – CRUISE THE MEKONG DELTA
The Mekong Delta stretches from Ho Chi Minh to the Southwest and on to the Gulf of Thailand. The amazing thing about the Mekong Delta is the locals you meet and see along the way. Kids riding on the backs of water buffalos, boat to boat trading & farmers working their fields. There are several options from 1 day – 1 week.
047 – HIKE TO THE TOP OF NUI SAM
One of the nicest hikes in the Mekong Delta and a great way to kick off you Mekong adventures. Check out the markets at the base of the hike and grab some snacks for the journey. Follow the motor free trail on the North side for a quieter journey to the top.
048 – TAKE A BOAT CRUISE THROUGH TRA SU FOREST
Tra Su Forest is located about 30kms out of Chau Doc. Formerly a plantation the forest is now a wildlife reserve full of birdlife and beautiful Lotus flowers. At 60,000 VND per person the trip is well under priced.
049 – MAKE FRIENDS WITH THE LOCALS
Don't be that classic tourist that ignores all the locals and walks around blabbing about how hungover you are and last nights tinder date. You are here to experience something unique so talks to and befriend the locals. Go on trips with them, have dinner with them and stay in contact for future trips.
050 – GIVE BACK
This is a communist country, oooo scary. No the western view on communism has been wildly warped by the early American views of the 60's, 70's & 80's. One of the greatest traits of communism is sharing. So show the locals you understand by sharing what you have. Share your food, share your photos and take them out for a beer.
051 – FIND THE INFINITY POOL IN SAPA
Topas Eco Lodge has to have one of the most beautiful infinity pools in the world. Located in Sapa it overlooks the beautiful limestone mountains and the rice terraces below.
052 – CYCLE AROUND MAI CHÂU
Mai Châu is definitely on the backpacker trail but it does not include all the drunk tourists and hectic motorbike traffic. You truly feel part of the local culture. Swim in the streams and watch the buffalos join you.
053 – PARTY HARD AT HANOI BACKPACKERS HOSTEL
Hanoi bacpackers hostel is a hub for travels basing out of Hanoi under the age of 25. But don't let that stop you from joining in the party, your traveling so she means s$&t all. Plus at 5pm they give out free beer!
054 – RIDE A BUFFALO
Yep you heard it right! You can ride a buffalo in Vietnam! You can find these tours offered in Mai Châu, Hoi An & Sapa. You can tick off two bucket list items at once with Jack Tran Eco Tours; ride a buffalo & ride in a basket boat.
055 – BUY A NON LA
What's that? You know those hats you see all those Vietnamese farmers wearing? Yep that's what a Non La is. Buy one and be that cheesy tourist.
056 – TRY NOT TO PUKE AT RURAL MARKETS
Rural Food markets are on another level in Vietnam. Carcasses of meat scattered together on a table. Whole plucked chickens hanging from hooks. Grubs still live been served up by the kilo & that's just what you can recognise.
057 – DO A VIETNAMESE COOKING CLASS
Vietnamese food is amazing right! So why not try and learn how to make it yourself. That way you can take the knowledge home with you and impress your next Tinder date with your new found cooking skills.
058 – JUMP OFF A BOAT IN HALONG BAY
Do a bomb, Do a backflip or just pencil jump it. You gotta do a boat jump while you are in this stunning part of the world. Don't worry the water is warm so no cold rush worries this time around.
059 – KAYAK THROUGH THE CAVES IN CAT BA
The majority of Halong Bay tours will include a kayak tour in the Cat Ba National Park. The kayak tour will take you through the naturally formed limestone caves that connect the ocean pools between the limestone pillars. Don't leave your go pro and hand in the water too long though, plenty of Jellyfish hang around.
060 – WATCH A WATER PUPPET SHOW
This is definitely a one of a kind experience. Located in the centre of Hanoi next to the lake, shows will run everyday at: 4pm, 6.30pm, 7.20pm & 8pm. A great way to get your Vietnamese culture fix. If you aren't going to Hanoi you can find shows all over the country, just ask your hostel front desk.
061 – GO QUAD BIKING IN MUI NE
Yep there are sand dunes in Vietnam! A stark contrast from the incredible greens of the dense Vietnamese forests. You can sign up for a quad bike tour with Mui Ne Explorer.
That's just 61 things to do in Vietnam there is so so so much more. Keep your eyes peeled on updates to this blog over the next 6 months. No doubt we will be back.
If you enjoyed this blog please subscribe & leave a comment. Please feel free to share this blog to your friends and family.
Life is Great. Travel is Better.
Paulo & Jacques