What do you think about when you think of Vietnam? Whatever it may be, chances are it's probably not adventure activities.
But, as one of the world's most picturesque landscapes, there are few better places to enjoy the atmosphere and surroundings while getting your blood pumping in a wide selection of adventures.
So, we've decided to count down just a few of our favourite activities in Vietnam to show that, as a country, great food, beautiful ancient temples and traditional rice paddies is not all it has to offer, there's so much more…
12 of the best adventure activities to experience in Vietnam (Part 1)
1. Paddle board in Mui Ne
Not too far from Ho Chi Minh, along the east coast you'll find Mui Ne Bay. Slowly finding its feet as one of the countries best beach resorts Mui Ne is one of the best places in Vietnam to try your hand at paddle boarding.
A cross between surfing and kayaking, paddle boarding is a great form of exercise, but more than that – it's amazing fun! Head to Mui Ne to take advantage of the great waves and it's proximity to the city.
2. Drive a motorbike from Hanoi to Ho Chi Minh
As anyone who's ever been to Vietnam will be able to tell you, they're big fans of motorbikes and mopeds – crossing the road in Hanoi and Ho Chi Minh is an adventure in itself.
Motorcycle is the perfect way to get around Vietnam and there are a huge number places where you can independently hire a bike or, if you'd rather, pay a guide and join a group motorbike tour.
Join the busy highway 1, or take the scenic route past the farms lands of Phong Nha and absorb the beauty of Phong Nha-Ke Bang World Heritage National Park. Stop off in Hue for and sample some local delicacies before some beach time in the costal city of Nha Trang as well as so much more. This is the ultimate in travel freedom and adventure and the perfect way to discover a country that needs to be experienced with every one of your senses.
3. Go diving in Phu Quoc
Imagine an island paradise with palm trees, golden sands and turquoise oceans alive with an endless array of weird and wonderful marine life and you've pretty much imagined Phu Quoc.
This beautiful Vietnamese island (which is actually geographically closer to Cambodia) is quiet, with just a small community of backpackers passing through. It's also a great place to go diving – the best place in all of Vietnam in fact.
4. Kayak around the islands of Ha Long Bay
Ha Long Bay is impressive, very impressive, so impressive that it was named as a UNESCO World Heritage Site and is one of the most visited areas of Vietnam.Hundreds of limestone islands protrude from the, usually misty, bay creating one of the most beautifully atmospheric landscape scenes in not only the country, but the whole of Southeast Asia, and there's no better way to experience it that from the water.
Rent a kayak and paddle between the islands taking in the views and exploring the hidden caves as you go.
5. Kayaking and Paddle boarding in Lan Ha Bay
UNESCO-listed Halong Bay gets all the attention, but neighbouring Lan Ha Bay is just as dramatic. Picture a fantasy world of jungled karsts rising from emerald waters, secluded beaches, and hidden caves. For outdoors enthusiasts, this is the perfect chance to explore one of the world's most famous seascapes. The quieter waters of Lan Ha are ideal for kayaking and stand-up paddle boarding. As you paddle through water caves and dodge rocky outcrops, you'll get a good sense of the magnitude of the bay. Hit up SUP Tour Vietnam for more information on Lan Ha Bay and beyond.
6. Off-road biking in Sapa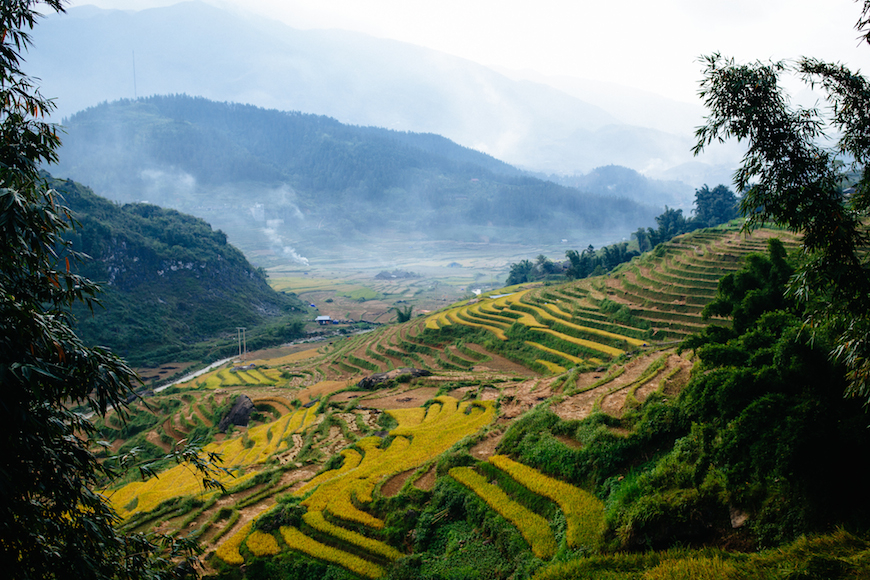 Sapa is a remote mountain town offering magnificent views of rice terraced hills, as well as easy access to hiking and ethnic homestays. But if you're seeking thrills as well as scenery, then why not try off-road biking? Ribbons of dirt track wrap around the mountains. Climbs pass through minority villages and downhill runs whizz through rice terraces. You can adjust the route to your level and what you want to see to craft an experience that matches your interests and ability. Handspan is one of several companies that arrange bespoke tours in Sapa.
YOU MIGHT BE INTERESTED IN
 12 Of The Best Adventure Activities To Experience In Vietnam (Part 2)
Find out 61 Things to do, see, taste & feel while you are visiting Vietnam